The task force you need to make your ideas come true!
Why attempt the risky, costly, and painful endeavor of building an FPGA/ASIC team from scratch if you can get an experienced and dedicated team ready for action in no time?
Whether you are building a complex 5G system based on FPGA or need a specialized IP-Core for DSP or cryptography, we are up for the challenge, bringing you peace of mind and your business the flow.
What we offer
We do RTL design and verification for FPGA and ASIC complete with firmware and FPGA bring-up. Our areas of expertise cover Digital Signal Processing (5G, LTE), cryptography, system-level design and integration.
Our project portfolio includes:
full development of complex SoC on FPGA: from specification to system bring-up alongside project management and planning
custom IP-Core development: tailoring and optimization for specific project requirements, from mathematical and algorithm level to microarchitecture
acceleration of customer's target application: exploring hardware architectures and developing algorithms for hardware implementation to meet performance and resource requirements
In our arsenal, we have a number of proprietary IP-Cores, from arithmetic cores (FFT, cryptography, FIR filters), complex radio processing cores (DPD, CFR) to complex solutions for voice interfaces (VAD), which may be deployed to your design.
Learn about one of our projects lowering the power consumption of the voice interface up to 100x:
Who we are
We are a team of experienced engineers with unique complementary skills. We have gained solid experience in the semiconductor industry (engineers with 15+ years in the sector). We have a track record of implementing FPGA designs and silicon-proven IPs for ASIC. We have strong academic and R&D backgrounds.
We are team players.
We are robust, reliable, and versatile.
Testimonials

IT Partners Telco
We are pleased to recommend Phonemic as a trusted partner who has played a vital role in our business for the past two years. We have established a strong relationship based on trust, expertise, and exceptional service.
Phonemic's team covered the entire process from RTL design, SoC integration, and verification, to implementation and FPGA bring-up. The team created a fully automated flow that maintains the entire FPGA project, saving us valuable time and resources.
For any organization seeking a dependable, long-term partner for dedicated Design Services, we confidently recommend Phonemic.

KP LABS
We approached Phonemic asking for support with mission-critical IP-Cores related to the satellite communication. Not only was the delivered solution well-implemented and efficient, but thanks to the close cooperation between our companies, coupled with Phonemic's involvement, it was integrated with our other subsystems with great ease.
I fully recommend working with Phonemic. In our case it actually was rocket science – and it was executed really well.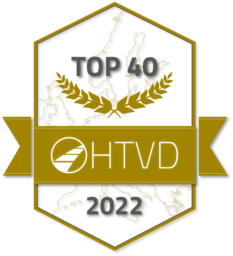 HTVD
Phonemic as one of the Top 40 Startups of #HTVD22!
ul. Frezerów 3
20-209 Lublin